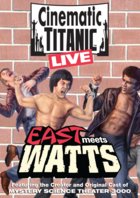 East Meets Watts is the latest installment from Cinematic Titanic and the first live DVD made available since Cinematic Titanic started performing live, and it's a blast! The DVD starts out with a camera covering the entire stage and then cuts to a composite image that places the performers at the sides of the movie so that the movie image is nice and sharp. This approach takes full advantage of the DVD aspect ratio and unlike a shadowrama performance ensures that the movie is never obscured (for better or worse).
With East Meets Watts (AKA Dynamite Brothers) we have a performance that's been honed over a number of live performances and the performers seem to be really settled into their groove. The riffs are as fast and furious, more so than the on-screen action and while the episode lacks some of the skit segments of its predecessors it's nice to actually see the performers for one (a synchronized spit-take partway through is better with a live camera).
Instead of a shorter trailer, Cinematic Titanic instead published a five minute segment to YouTube, so you can see for yourself how the live version works:
I'd suggest picking it up, either on DVD or instant download.